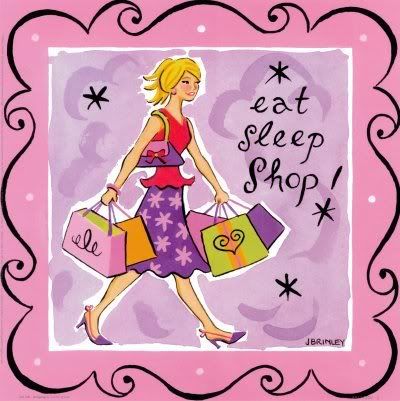 I'd LOVE to go shopping with him! hehe..
I can't wait! can't wait... yeaay!!
Lebih2 la sayerp tahu sikalang musim sale kan. waa lagik tebliak mata sayerp nih..
Hurm, Women like me, however, don't know what i want until they get there. Sometimes i have to spend hours and hours "just looking" unless, of course, they see the 4-letter word, "SALE"
ye lah, kalau x sale rasa berat jerk mau beli tp kalauu dah bekenan sgt.. mmg x leh tahan dah, beliiii ajer :)
* eh eh!!! i know what i want tapiiiiiiiii biar lah sayerp pendamkan dulu cuz kekadang tu niat lain tapi bila dah sampai lain plak yang dibelii.. kekekeke =)
maklum la sayerp spt gadis2 lain juga. mau itu ini. g sana sini. ahh nak tu!! nak nii!! nak nak!!
So, sikalang nih sayerp tgh mbilang masa. auuwww... kekeke. lambat nyer..! keke..
apa la sayerp ni. kalut jerk... :)
ah sayerp mmg gitu. kalau nk sesuatu mmg x leh shabar dah tapi apa yang sayerp nk pum x tahu..
at least sayerp happy krn sayerp akn bsama dgn si dia.. yipiieee.......... ;)
For tomorrow mownim, i will pick him at his house at wakaf zink. then we had oru lunch n bought breakfast for my parents.. ( mcm biasa la cuma kena g amik dia jerk)
sayerp balik ke rumah utk siap2 kan homework then baru kuar for shoppinggg!!! yeayy!!.
tapi at wat tyme i will out for shopping?
oh x payah la. tapi kalau nk blanja2 sayerp ok ajer. make a call and meet mana2 ok.. wekks!
that's all from now...........
nanti2 kalau jari jemari ni rasa kerajinan.
i will continue for da new post ok.......
agak2 rajin ker..? hahaha. gtg.................. daaaaa........ askum.